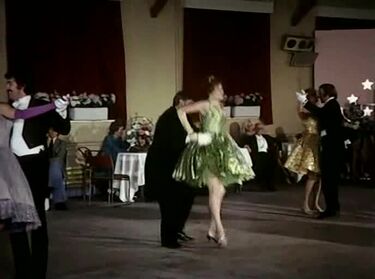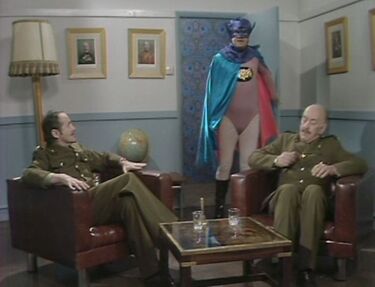 Production
Edit
Episode: 20
Date: December 27, 1973
Time: 50:28
Musical Director:
Vocals: The Ladybirds
Choreography: Albert Elms
Producer: John Robins
Director: John Robins
Writer: Benny Hill
Highlights
Edit
Fred Scuttle Chunnel Tunnel
Great British Dancing Finals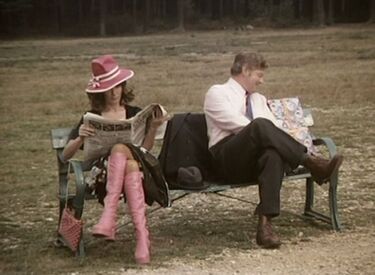 Last appearance of Andree Melly's three appearances in the series.
The opening quickie refers to a military batman, a military term for a soldier or airman assigned to a commissioned officer as an orderly or personal servant. However, Benny applies it to the iconic DC Comics character whose American 1966 to 1968 TV series had already ended by time this episode aired.
In the Chunnel sketch, Bob Todd pours medicine into a spoon, drinks from the bottle then pours the spoon portion back into the bottle. Little Rascal George "Spanky" McFarland also did this bit in the "Our Gang" short, "Hook And Ladder."
Benny does a parody of the American 70s police drama, "Ironsides."
Last on-screen appearance of The Ladybirds; the show would instead start showcasing singers and bands until the first appearance of Love Machine, who then became the basis of the Hill's Angels.
Quickies for this episode feature Benny and Bob Todd discussing how to spell "womb" and getting corrected by Andree Melly, early appearances of Jedediah Jardine (although he's called Zeke here), a bit about a newborn baby, a trip to the nurses's office and Bella Emburg offering Manolo sugar and milk. It wraps on a tag on a park bench involved in a bit of identity confusion.
This is the last episode for the Ladybirds.
---
Community content is available under
CC-BY-SA
unless otherwise noted.