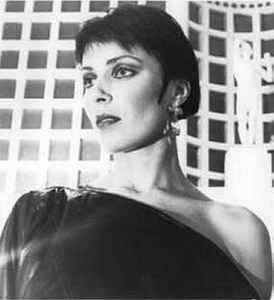 Francesca Boulter is an English vocalist and entertainer whose work includes "The Benny Hill Show."
Not much is known about her life and career. She is the daughter of tenor John Boulter, and as an adult, she performed as the lead singer for Georg Kajanus' synth-pop band DATA with her sister, Phillipa Boulter. The title track of their first album, "Opera Electronica," was used as the theme music to the short film, "Towers of Babel" in 1981.
DATA went on to release two more albums, "2-Time" in 1983 and the country and western-inspired electronica album "Elegant Machinery" in 1985. The title of the last album became the inspiration for the name of Swedish pop synth group, Elegant Machinery, formerly known as Pole Position.
In 1989, Boulter performed the Bonnie Tyler song "Holding Out For A Hero" with The Ladybirds for a Hill's Angels segment on "The Benny Hill Show."
In 1995, Boulter and DATA released a compilation album, "Accumulator," containing the complete albums from "2-Time" and "Elegant Machinery" and the track "Fallout" from "Opera Electronica." She eventually married music promoter Robert Unsworth. They have two children.
Episode(s)
Edit
Community content is available under
CC-BY-SA
unless otherwise noted.