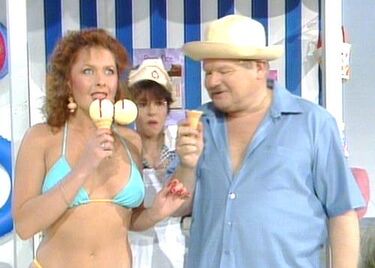 Production
Edit
Episode: 50
Date: April 8, 1985
Time: 51:17
Musical Director: Ronnie Aldrich
Vocals: The Ladybirds
Choreography: Libby Roberts
Producer: Dennis Kirkland
Director: Dennis Kirkland
Writer: Benny Hill
Quickies - 3
Ballad - What A World
Bill Posters
Quickies - 3
Forever Love
The Feminine Dictionary
Hill's Angels: The Oddball Club Cabaret
Fred Scuttle: Independent Cinema
Tag: "Hullo, Sailor!"
Highlights
Edit
Benny warps the English Language with his "Feminine Dictionary"
James Gaulstone (played by Benny Hill in the "Forever Love" parody of mail order record ads) is a play on the name of Irish flautist James Galway, who had recorded an instrumental version of John Denver's "Annie's Song" in 1978.
The "Charlesworth House" reference at the end of the ad parody was an in-joke reference to theatrical agent Peter Charlesworth, whose clients included such Hill players as Bob Todd and Louise English.
This episode appears on the "Golden Grins" VHS.
---
Community content is available under
CC-BY-SA
unless otherwise noted.