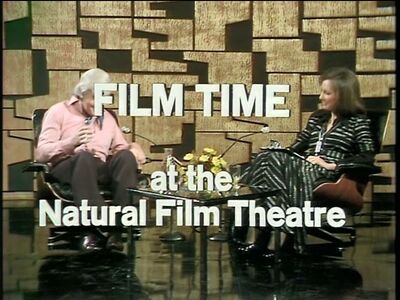 Bio
Film Time at the National Film Theater is a British TV series where actors and film-makers get together to talk over film and television. Actress Lesley Goldie is the host interviewing American director Sam Speiler (Benny Hill). Coming across as loud, sexist, boisterous and conceited, he is questioned for mostly casting men in his movies and tells a story about an actress named Victoria Vee, who seems to have been quite old (born not too long after Queen Victoria) but extraordinarily shapely ("thirty-six inches... each one!"). Speiler reports she couldn't sing, she couldn't dance and couldn't act, but with great difficulty, she could stand up. He then went on to describe an actor hated by Native Americans for ever several movies who had to do a scene with her cradling his head, going into details in the process, but in describing another actor who was a former Marine, he briefly slips twice into an effeminate lilt, possibly exposing his sexual orientation buried under his bravado.
Lesley veveals Speiler's film with W.C. Fields named "Lulu Belle" which has Fields playing a man named Ivor Littlejohn describing a fracas in which he gets injured. He meets Angelica from Appalachia, played by Mae West (Cheryl Gilham) and calls her cheap and promiscious, two qualities he likes in a woman. When he kisses her hand, she thinks he's trying to dig the diamonds from her rings with his nose. When she feels slighted, she tries putting him down, but Littlejohn bolsters himself on his father's accomplishments. Angelica counters by revealing her father created her.
Further in the interview, Speiler's unconventional lifestyle in mentioned, and he describes his life with his life-partner, Bruce. Lesley mentions he did a sequel to the Carole Baker film, "Baby Doll," where he reversed the gender roles and made a young man (Benny Hill) the giant man-child. In the film clip, Baby Boy is visited by Lucy Confort (Diana Darvey), an old childhood friend, who wants to marry him before she gets too old. Unfortunately, all he cares about is his toys, even getting excited when she brings him new toys for his birthday. His favorite toy is a stuffed bear named Andy Panda, who sits in a special chair in his room. Lucy is getting tired waiting on him to grow up and mentions she might marry a beau named Elmer Claptrack, which makes him angry. He talks about his mother and father, but while Lucy talks to him about growing up, she aggressively kisses him. He gets up talking with a deeper more masculine voice, but she starts crying when he immediately reverts back and replaces Andy Panda with a stuffed toy named Golly.
Trivia
"Film Time at the Natural Film Theatre" is a parody of "The Movie Makers," a recurring series of interviews with major filmmakers and actors at the National Film Theatre, the leading repertory cinema in the UK, specializing in seasons of classic theater. It aired on the BBC between 1969 and 1976 sketch of Feb. 7, 1974. Since 2007, it has been known as BFI Southbank (from 1951 to 2007, known as the National Film Theatre, operated by the British Film Institute.
The cast for "Lulu Belle" includes Henry McGee (bartender), Bob Todd, Jackie Wright (bar patrons) and Lesley Goldie and Diana Darvey (Western belles).
W.C. Fields was one of Benny's favorite comedians and loved imitating him along with Oliver Hardy from "Laurel & Hardy." He plays Fields again in 1975 and 1978.
Cheryl Gilham is said to have encouraged or written the Fields/West sketch with Benny.
Episode(s)
Gallery