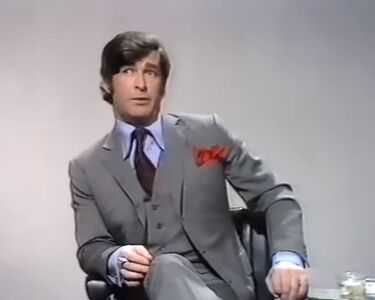 Production
Episode: 15
Date: February 12, 1973
Time:
Musical Director:
Vocals:
Choreography:
Producer: Peter Whitmore
Director:
Writer: Dave Allen, Austin Steele and Peter Vincent
Episode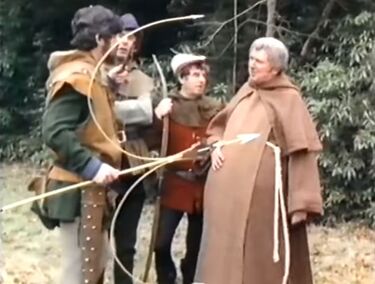 Highlights
Cast
Quotes
(Dave is rambling on in an explanation that is going no where.)
Offstage Voice "Oh, do get on with it!"
Dave Allen (spooked) - "I didn't know God watched the show!"
---
Dave Allen - "There is a war and we never speak of it. It's an undeclared war between the male sex, and the female sex. It starts from childhood when we are told that girls are made from sugar and spice and all things nice, and we are made from frogs and snails and puppy dog tails. I betcha that was written by a woman - a big fat butch type. And girls, little girls, are told the way to a man's heart is through his stomach. Exactly, but you're not talking about love, you're talking about heart failure! Feed him up, give him good food and he'll get fatter and fatter and, boom, his heart will go, and then you go off and collect the insurance. And why, because dead men tell no tales."
---
Ronnie Brody "Sweet Effay." (in the court sketch before Dave as a judge)
Trivia
The Hamlet scene in this episode is from Hamlet Act III Scene I.
Robin Hood is a semi-historical figure (1160-1247) whose exploits were the basis of several tales beginning with "A Lytell Geste of Robyn Hode" in 1510 and reaching to modern literature and motion pictures. It's believed the original story was based on the tale of Robert Fitztooth, 12th Century Earl of Huntingdon who had escaped his debts by retiring into a solitary existence in the woods. Some scholars believe there was not just one Robin Hood, but several whose stories merged to one.
Sequence
Community content is available under
CC-BY-SA
unless otherwise noted.