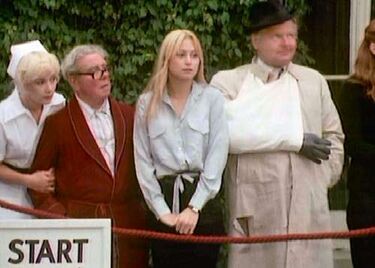 Edward "Eddie" Connor is an English comedy actor whose career spanned much of the 70s and the 80s. Not much has been revealed about his life or career. His early roles on television include appearances on the TV shows "Sergeant Cork," "The Wednesday Play," "Crowther's Back in Town," Play for Today," "The Onedin Line" and "Selwyn." From 1977 to 1978, he starred on "The Benny Hill Show," playing an escaped convict who impersonates Charlie Chaplin on June 26, 1976 (along with Benny Hill and Jackie Wright as Oliver Hardy and Stan Laurel), an injured guest at a Scout Jamboree on February 23, 1977 and a spectator at a Wheelchair Race on December 26, 1978. He later had two appearances on the British TV series, "The Breach," and had roles in the shorts, "The N7," "Dalston Heath" and "Ex."
Episode(s)
Edit
---
Community content is available under
CC-BY-SA
unless otherwise noted.