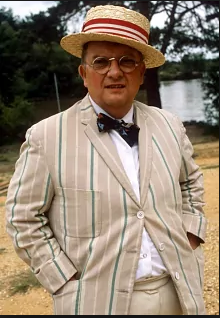 Don Estelle is a English actor and singer best known for playing the role of Lofty in the British television series, "It Ain't Half Hot, Mum."
Born Ronald Edwards on May 22, 1933 in Crumpsall, Lancashire, he was partially raised in Darwen, Lancashire, twenty miles away from his home, to escape the German bombing of the city during World War Two. He started singing at the local Holy Trinity Parish Church, and continued singing at St Mary's Church in Crumpsall after the war. He later joined the Manchester Kentucky Minstrels and performed with them in the talent show "What Makes a Star?" in 1954 at BBC Radio in Manchester.
Estelle later joined the group, "The Backyard Kids," performing at the Hulme Hippodrome in Manchester. He later toured the northern club circuit and eventually toured with comedy actor, Windsor Davies, for four years. He later had had cameo roles in the TV series, "Dad's Army" before briefly replacing Jackie Wright (who was filming the movie, "Three for All") in the May 26, 1978 episode of "The Benny Hill Show," playing a back-up singer to Eddie Buchanan. He afterward received the role of Gunner "Lofty" Sugden in the TV series "It Ain't Half Hot Mum" which ran from 1974 to 1981.
Despite his 4'9" stature, Don had a powerful tenor voice and released a semi-comic version of the song, "Whispering Grass," with Windsor Davies which became a Number 1 hit in the UK Singles Chart in 1975. He also had appearances in the films "Not Now, Comrade," "A Private Function" and "Santa Claus: The Movie" through the 70s and 80s.
Most of Estelle's last years were spent living in in Christchurch, New Zealand, where he spent countless hours working with jazz and blues pianist, Malcolm Bishop. He released his autobiography, "Sing Lofty: Thoughts Of A Gemini" in 1999 in which he criticized the British networks for refusing to rerun "It Ain't Half Hot, Mum" and other shows because of percieved changes in British propriety. He made several public appearances dressed in his "Lofty" outfit, once playing a dirty old man in a promotional video for Page Three Girl Jo Hicks's single, Yakety Sax. He could also be seen performing in Cwmbran town centre in South Wales.
Following a liver transplant in 2003, Estelle became too weak for doctors to operate, and he returned to the UK weeks before his death. He passed away in Rochdale Infirmary on August 2, 2003. He was buried in Rochdale with the pith helmet he wore as Gunner "Lofty" Sugden. He was survived by his second wife, Elizabeth Estelle.
Episode(s)
Edit
---
Community content is available under
CC-BY-SA
unless otherwise noted.