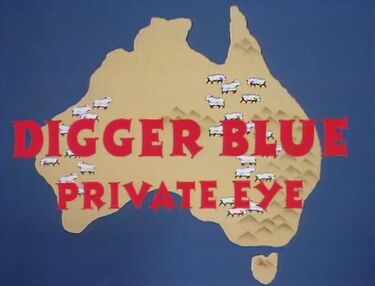 Bio
Digger Blue: Private Eye is an Australian TV series featuring a detective named Digger Blue. He's fond of edible pipes, sunglasses and beautiful women, and is a fan of Telly Savalas. On cases, he is joined by his lovely brunette partner (Denise Brownlow) and sidekick (Jackie Wright).
In the episode, "Case of the Missing Microfilm," Digger is in search of missing microfilm and tails a suspect (Donna Scarff) all the way to a Women's Hostel, but when he tries to enter, he's warded off by the stern women's matron (Henry McGee). When he whistles for his partner, all the girls in the building lustfully toss him their keys.
With his team, Digger climbs in over a wall and through a window, but when the girls (Jillian Foot, Donna Scarf, Jenny Westbrook and Penny Chisholm) find them, they invite the detectives to party with them in their dorm, but the matron finds them and puts a stop to their fun, slamming a piano cover on Digger's fingers, and his other body parts. When his suspect surrenders the microfilm, both Digger and the matron dive to take it, but it flies through the air and goes down the front of the dress and through the cleavage of one of the girls (Dee Dee Darlington). When Digger's partner turns on the radio and dances with her to wiggle it free, the matron again makes a grab for it, revealing herself as a male spy in the process. Digger then gives chase to the spy, both of them on bicycles. After Digger vaults over the balustrade to capture him, he fools the spy with two phony guns, one being a lighter, and the other being shaped candy.
For this achievement, Digger is knighted by the Queen (Jenny Westbrook?), and accidentally taking his ear off.
Trivia
Digger Blue is played by Benny Hill.
The girl in the blue dress in the intro is Dee Dee Darlington. She is also the biker girl with the baby carriage.
The guy in the white sweater punching out Benny is likely Ken Sedd. He is also the chauffeur with Jenny Westbrook pushing the limousine baby carriage and the Scotsman dressed like Donna Scarff.
Penny Chisholm is the girl with "The Gunners" baby carriage and the girl in a bra, panties and stockings in the hostel.
The girls in the windows are likely Brownlow, Foot, Scarf, Chisholm and Westbrook.
"Stunt cleavage" from an unidentified actress is used for Dee Dee Darlington when the microfilm sails down the front of her dress.
The exterior locations in this sketch were filmed at Foxhills Estate. The site was also used in numerous other sketches through the 1970s episodes, particularly Bionic Boy, the Grand Wheelchair Rally, the beach scenes, the Body Building tag from June 26, 1977 and the home of The Widow on May 30, 1978.
Gallery
Episode(s)