Jurassic World: Dominion Dominates Fandom Wikis - The Loop
Play Sound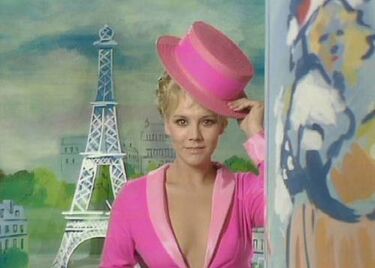 Diana Darvey was an English actress, singer and dancer, possibly best known for her personal cabaret act and her recurring appearances on "The Benny Hill Show."
She was born Diana Magdalene Roloff on April 21, 1945, the daughter of entertainer Pamela Cooper of the Windmill Girls. Her father having died when she was just two, Diana was raised and educated in Bristol.
In 1962, Diana made her first stage appearance at the age of 17 as a pantomime dancer in Bath and a year later became a Butlin's Redcoat. Changing her name to "Davey" after her step-father (the "r" added years later to change it to "Darvey"), she also joined a London ballet troupe that travelled Sweden, Germany and Spain. Afterward, Darvey settled in Spain and became a popular revista performer under famed Spanish impresario Colsada. Over the next several years, she appeared in musical theatre productions in and around Spain. While performing in Madrid, she was discovered by Benny Hill and accepted into his television comedy repetoire.
First appearing on his show on February 7, 1974, Darvey became an international celebrity with her songs and her self-designed, often gravity-defying costumes. She could sing in English, French and Spanish and sometimes wore as many as four costumes in one act. Her most popular sketch on the series was the "Continental Cabaret" sketch with Hill and Jackie Wright, featuring a gag involving the word "supercalifragilisticexpialidocious" from the Walt Disney movie, "Mary Poppins." She also participated in other sketches, including a gender-reverse parody of the 1956 film, "Baby Doll," a remake of a 1965 sketch with Elaine Taylor.
After appearing in five episodes, Darvey made appearances on the game show, "Quick on the Draw" and the comedy "And Mother Makes Five. " She also starred in the movie, "Carry On Behind" in 1975. Afterward, she traveled in a cabaret act with her husband, Terry Gittings, the former drummer for Georgie Fame. When "The Benny Hill Show" was syndicated in 1982, she was living in Miami Beach, Florida. After her divorce with Gittings, she moved back to England and managed a pub in Bodicote, Oxfordshire.
Darvey married for a second time to Ralph Barker in 1995. After a fall at her home, she passed away on April 11, 2000, ten days before her 55th birthday.
Episode(s)
Gallery