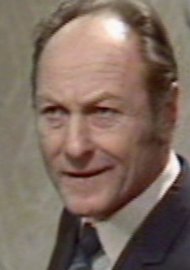 Derek Royle was a British comedy actor possibly best known for the films "Don't Just Lie There, Say Something!," "Tiffany Jones" and "Confessions of a Sex Maniac."
Not much is known about his life and career. He was born in London, England on September 7, 1938. His acting career started in the Sixties, starting with a supporting role in the Beatles' film, "Magical Mystery Tour" in 1967, as well as in "Work Is a Four-Letter Word" with Cilla Black in 1968. He also appeared in the children's TV comedy series, "Hogg's Back" in 1975, playing Doctor Hogg, an eccentric general practitioner, with actors Wendy Richard and Pat Coombs, reuniting with them on "The Dick Emery Show." His later TV appearances included "Life Begins at Forty," "Diamonds," "Shine on Harvey Moon," "Tom, Dick and Harriet," "The Gaffer" and "Juliet Bravo." On January 5, 1985, he played the role of a terrified butler terrorized by Bob Todd in an "A-Team" spoof on "The Benny Hill Show."
Royle went on to play an eponymous corpse in an episode of "Fawlty Towers" known as "The Kipper and the Corpse." He went on to play supporting roles in the films, "Indiscreet" and "Wonderworks" after roles in the TV shows, "Laura and Disorder" and "The Bill." He replaced actor Jack Haig in the role of Monsieur Ernest LeClerc in the Sixth Season of "'Allo 'Allo!" As a stage actor, he was a mainstay of Brian Rix's Whitehall farces company, specialising in absent-minded characters and using his acrobatic skills to fall down stairs and jumping up unaffected.
Sadly, Royle passed away from cancer on January 23, 1990 at the age of 61. He was survived by his daughters, Amanda and Carol Royle, who also became actresses.
Episode(s)
Edit
Community content is available under
CC-BY-SA
unless otherwise noted.