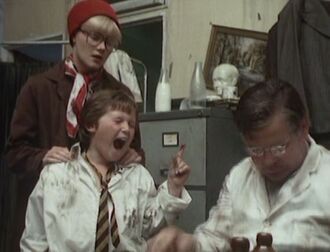 David Barham was a British child actor from the Late 70s and Early Eighties. Not much of his life and career is known. Possibly born around 1968 or 1969, he appears as the child counterpart of Gaston LeClerc played by Benny Hill in Friends to Tea with Henry McGee on January 7, 1981, returning in the same role with Claudine Sinclaire as the child counterpart of Louise English on March 25 1981. He is possibly also the screaming boy in the National Health Clinic sketch on March 14, 1979.
His only other known credit was a 1976 appearance on "The Sweeney." His modern whereabouts are unknown, but he is possibly no longer in show business.
Episode(s)
Edit
Community content is available under
CC-BY-SA
unless otherwise noted.