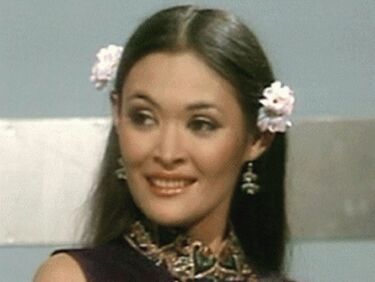 Claire Lutter is an English actress, singer, dancer and entertainer best known as a founder and member of the musical dance troupe "Love Machine." Her film credits include the 1986 film "Shanghai Surprise" with American pop star Madonna and the TV shows "The Benny Hill Show" and "Space: 1999."
Not much of her early life and career are known. She started out dancing at the former Stork Room in London where she met and became friends with Libby Roberts and Sue Upton. After her contract with the night club ended, she started "Love Machine" with Libby, Jane Newman (now Jane Margaret Colthorpe?) and a fourth member named Lynn Collins to perform in nightclubs all over the country. After Lynn departed, they were joined by Teresa Lucas, a close friend of Claire and Jane's. Lorraine Doyle later joined the permanent line up as a singer until joining "The Benny Hill Show" as a regular sketch character.
Claire and "Love Machine" appeared in three episodes of "The Benny Hill Show" which included Sue Upton as a cast member. Their routines included the songs "Think of the Boys," "The Flash" and "Dancing in the Nude," backed by Eddie Buchanan doing the vocals. The series was very favorable to their popularity with Claire also appearing bit parts in sketches, such as Chow Mein's secretary, Hi Pong, in the March 23, 1977 episode. She afterward went on to star in a production of "The King and I" at the London Palladium with Yul Brynner and uncredited roles in the movies "Never Say Never Again" with James Bond and "Shanghai Express" among other projects.
Claire still lives in London with her long-term boyfriend, actor Rayner Bourton, who played Rocky in the original Rocky Horror Show. She is an active member of the Grand Order of Lady Ratlings, the long-established charitable and social organization for women in British show business.
Episode(s)
Community content is available under
CC-BY-SA
unless otherwise noted.