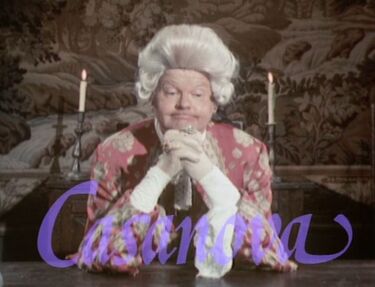 Bio
Casanova is a famous Venetian womanizer well-known for his recurring bouts of adultery. As one Venetian lord (Eddie Buchanan) is busy posting a warning to husbands and fathers, Casanova sneaks up on him, seduces his wife (Ellie Reece-Knight) and gets away with it.
Dubbed "the Fastest Lover In The West," Casanova is often joined by his servant (Jackie Wright) as he pursues women, but his main pursuit is the young maiden (Suzy Mandel) dressing in the window of a local castle. He's briefly alarmed by one homely lady (Eddie Buchanan) while watching her, but he is immediately distracted by a another bosomy young lass (Ellie Reece-Knight). He charms the beauty by carving their initials into a tree, weakening it that it almost comes down on top of them. She then invites him to her home where Casanova is surprised by her husband (Eddie Buchanan) and a manservant (Ken Sedd). Casanova's servant is captured too trying to fool around with the young bride himself.
Locked in jail, Casanova and his servant are living on gruel when the beautiful bride shows up with a cake, but the jailkeeper (Ken Sedd) finds tools and a file hidden under it. The cake however is inedible, and Casanova knocks the jailkeeper out by cracking it over his head.
Escaping jail, Casanova, his lover and servant flee their pursuers (Ken Sedd and Pete Morgan) with traps and tricks, eventually disguising themselves with a dress and giant skirt hiding Casanova from view. It almost works until he bumps into a bucket under his feet.
Casanova soon returns to the girl in the castle, but he's fooled by the homely girl using a portrait in the window. Somehow, he escapes her, and returns to his castle where his lover lives with him, but he soon suspects his servant is fooling around with her. After catching them together, Casanova confronts them, finding his servant and five others hiding under her skirt. Distraught, he tries taking his life with a pistol, but the pellet passes harmlessly through his head and takes out the six others, leaving him and his lover in peace.
Trivia
Casanova was played by Benny Hill. He also played the character in the closing tag on February 24, 1971.
Giacomo Girolamo Casanova was a famous Eighteenth Century adventurer and author from the Italian Republic of Venice who was well-known for his womanizing with married women.
The "Bending Telescope" gag comes up again in the Home for the Summer opener.
Episode(s)
Gallery