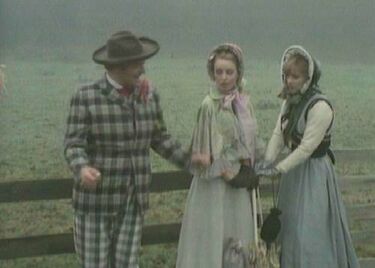 Production
Episode: 38
Date: March 5, 1980
Time:50:11
Musical Director: Ronnie Aldrich
Vocals: The Ladybirds
Choreography:
Producer: Dennis Kirkland
Director: Dennis Kirkland
Writer: Benny Hill
Episode
A Host of Favorite Stars
Ballad: Johnny Boy
Art Gallery Munchies
Chow Mein: Industrial Tribunal
Madame Louise Summer Collection
The Court Jester

Butch Cafferty and the Fundance Kid

Tag: Hill's Angels
Highlights
Art Gallery Munchies
The Court Jester
Butch Cafferty and the Fundance Kid
Cast
Quotes
Trivia
Selected sketches from this episode appear in "Video Revue" from HBO Home Video.
In his impression of singer Anthony Newley, Benny sings Poor Old Prunella, which 0riginally aired in Down Memory Lane.
"Butch Cafferty and the Fundance Kid" is a parody of the 1969 movie, "Butch Cassidy and the Sundance Kid" with Robert Redford and Paul Newman.
Sequence
---