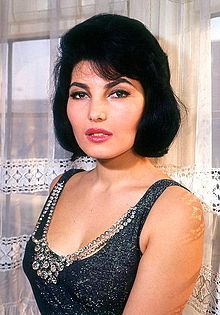 Bettine Le Beau was a Belgian-English actress and writer probably best known for "The Benny Hill Show" and several film, radio and television appearances in the UK.
Born on March 23, 1932 in Antwerp, Belgium to Jewish parents, she was separated from her parents during World War Two and was held in Camp Degurs concentration camp on the French border of Spain, later escaping and going into hiding with the help of a family. She eventually made it to England in 1945 and attended Pitman's College, working as a model, artist, graphologist, cabaret artist and a facilitator for a Yiddish language circle. She also worked on radio on a woman's program for solving problems.
As an actress, her television appearances include five episodes of "The Benny Hill Show," "The Prisoner," "Call My Bluff" and "The Golden Shot." She also starred in the movies "My Last Duchess," "San Ferry Ann" and "Devil's Daffodil." She also had an uncredited role as Professor Dent's secretary in the first James Bond film, "Dr No." On radio, Le Beau was a regular on the BBC World Service program, "Animal, Vegetable and Mineral," a version of Twenty Questions.
Le Beau also worked as a public speaker, talking about her experiences as a child of the Holocaust. She is also an author, with the book, "Help Yourself to Happiness."
She passed away September 8, 2015 at the age of 83 in Finchley, England. Married twice, she was survived by her two children.
Episode(s)
Edit
---
Community content is available under
CC-BY-SA
unless otherwise noted.