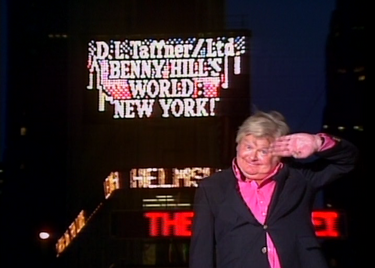 Production
Edit
Episode: 60
Date: May 30, 1991
Time: 1:33:1
Musical Director:
Vocals: The Ladybirds
Choreography:
Producer: Cathy M. Cambria and Don Taffner (New York City), Philip Jones (London)
Director: Dennis Kirkland
Writer: Benny Hill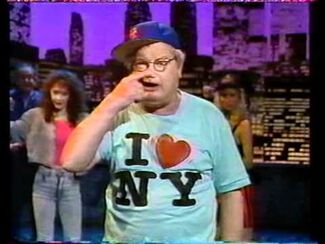 Quickies - 5
Welcome To New York
Monologue: New York Benny
The Dr. Ruth Show
How to Meet Beautiful Women
A Streetcar Named Desiree
Benny at Rockefeller Plaza
Chow Mein: Ventriloquist
Raiders of the Lost Jungle
The Common Cold Recovery Center Choir
Tag: Gangster Benny
Highlights
Edit
Benny Hill impersonates Dr. Ruth Westheimer and Roseanne Barr.
How to Meet Beautiful Women
A Streetcar Named Desiree
Gangster Benny
Benny does impressions of Dr. Ruth Westheimer and Roseanne Barr.
Benny's line "13th floor/Not superstitious" is recycled from the The Stamp Collector and The Hitchhiker sketches.
This episode was filmed in two parts with exterior shots using local talent in New York City and interior shots filmed with Benny's regular cast in London. As a result, the entirety of the "How To Meet Beautiful Women" sketch was taped in New York City except the end with Bob Todd and Lorraine Doyle which was filmed at Teddington Studios.
Despite being one of his favorite cast members, Sue Upton only appears in the bank robbery quickie and the Common Cold Recovery Center Choir sketch.
This was the last episode made at Teddington Studios in London. All of the exterior scenes were filmed in New York City.
Benny's exterior scenes were filmed in Times Square and on the west side of Central Park with the San Remo Apartments in the distance.
This special was not aired in England until two years after Benny's death. Billed as "Benny Hill: Unseen," it aired in two parts on April 12, 1994 and May 16, 1994.
Although Hill's Little Angels are credited for this special, the only one who actually appears is Richard Whatling.
Community content is available under
CC-BY-SA
unless otherwise noted.