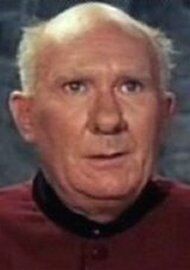 Arthur Reginald Hewlett is an English actor, best known for "The Pied Piper," "Love Among the Ruins" and "The Night Visitor." He was born on March 12, 1907 in Southampton, England. He is probably best remembered for his roles on British television, including "Quatermass and the Pit," "Police Surgeon," "The Avengers," "The Saint," "No Hiding Place," "The Baron," "The Troubleshooters," "Follyfoot," "The Changes," "Doctor Who," "Shoestring," "Juliet Bravo," "The Black Adder" and "Moondial." He also starred as Snug in the 1964 Rediffusion-London production of Shakespeare's "A Midsummer Night's Dream" with Benny Hill, Eira Heath and Kay Frazer, later getting a bit part on "The Benny Hill Show" on a sketch that made it into The Best of Benny Hill. His other movies include "The Professionals," "The Third Alibi," "Reach for Glory" and "A Challenge for Robin Hood." He passed away February 16, 1997 in London, England, survived by his wife of thirty-three years, actress Margaret Denyer.
Episode(s)
---
Community content is available under
CC-BY-SA
unless otherwise noted.