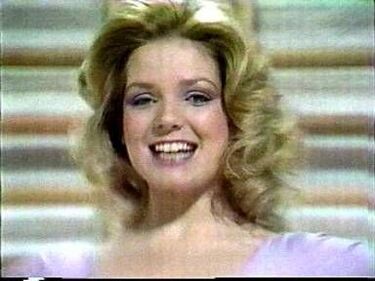 Alison Bell is an English actress, model and dancer best known for her appearances on "The Benny Hill Show."
She was born in 1960 in Roehampton, England. Not many details have been revealed about her career, but the statuesque beauty became one of the first Hill's Angels on "The Benny Hill Show." In an interview, she describes discussing her interview occurring over lunch and wine. First appearing on the series on the April 25, 1979 show, her characters included Lady Cynthia Ramsbottom in "The Police Raid in Waterloo Station," "The Poster Girl" and appearances in "Keep Young and Beautiful," "Hotel Splendide" and "Little Dimpton Street Party" At 5'10", her height also led her to play characters such as a female Hulk, a female vampire and Wanda the Wicked West Whickam Whip Woman in the Super-Teech episode. On at least two occasions, she re-played roles from earlier sketches, such as a woman trapped inside a burning building in the remake of "A Tribute to the Lower Tidmarsh Fire Brigade" and as the younger wife of Jackie Wright in "The Lover," once played in earlier sketches by Leslie Goodie.
After leaving "The Benny Hill Show," Bell appeared in "The Bruce Forsyth Show" and "Little and Large." She also appeared on stage in "Underneath the Arches." Often interviewed in specials about Benny Hill, she has also appeared in the movies "Nice to See You!" in 1981 and "Play Your Cards Right" in 1980.
In the 2006, she appears with several former Angels, Sue Upton, Alison Thomas, Jo Thomas and Carla De Wansey for a "I Was a Hill's Angel" feature for the series's full release on DVD in its unedited form, serving as a loving tribute and retrospective on their time on "The Benny Hill Show."
Episode(s)
Edit
Community content is available under
CC-BY-SA
unless otherwise noted.