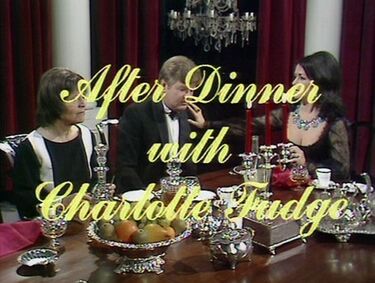 Bio
After Dinner with Charlotte Fudge is a high-cultured television discussion program situated at the dinner table. Hosted by socialite Charlotte Fudge (Eira Heath), the series seems focused on discussing the new traditions and trends to enter modern culture. Her guests are Jeremy Rennuwyn (Benny Hill), a previous guest to the show, and Marie Quist (Patricia Hayes), Britain's First lady of Fashion. Unfortunately, Jeremy shows up extremely inebriated and drowns out Miss Quist with comments, veiled insults and other distractions to the point that the director (Michael Sharvell-Martin) orders him dragged off stage.
Trivia
Charlotte Fudge was played by Eira Heath.
This sketch appears as part of a string of quickies. It also possibly ranks as one of the most remembered (and most hilarious) sketches in the series.
Episode(s)
Gallery