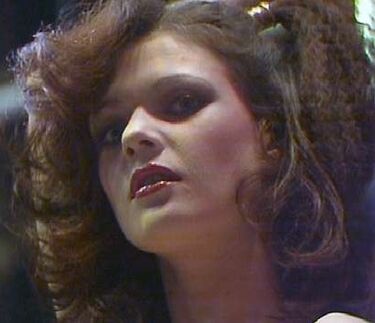 Abigail Higgins is an English actress and dancer, best known for her appearances on "The Benny Hill Show."
There is not much info on her early life or career; she was a member of the second generation of Pan's People with Louise English, later joining her in becoming one of the Hill's Angels on "The Benny Hill Show." Beautiful. brunette and bosomy, she was also a member of Benny's comedy repertoire, playing a sexy neighbor in the "Yield to the Dawn" sketch on the April 25, 1979 episode and a lady explorer on the March 25, 1981 episode. She continued on the show largely uncredited, appearing with Jackie Wright in Stupid Cupid and as a bank teller in the Fingers McNee sketch as late as the January 16, 1984 episode. Her only other known TV credit was in a TV special for comedian Bruce Forsyth.
Following the series, Abigail stopped dancing as many of the complex routines had taken a toll on her body and left her in pain, which possibly explains her switch from a dancer to the sketch repetoire in the show. She worked as a choreographer for a while afterward, but eventually even that pursuit became too painful for her. Turning to sculpting, she was taught and encouraged by Bruce Chivers, a potter in Devon, England. She has been producing ceramic pottery through Christow Mill Pottery in Devon.
Episode(s)
Edit
---
Community content is available under
CC-BY-SA
unless otherwise noted.